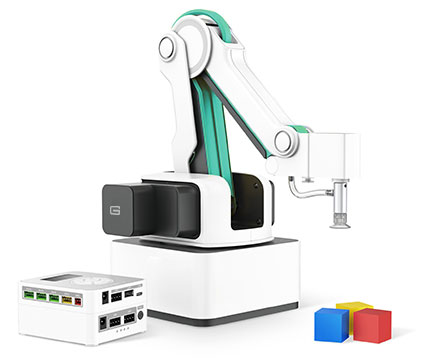 DOBOT Magician Lite, a multi-functional lightweight intelligent robotic arm, is one of the core products in DOBOT's K12 customized artificial intelligence education ecosystem.
Magician Lite enjoys numerous software and hardware interaction methods and expansion interfaces in order to maximize students' freedom to create. Through building and playing, students can learn how artificial intelligence and mechanics work. They will be also introduced to a world of rudimentary knowledge of robotics and how they can be used in real world. Additionally, DOBOT hosts robotics competitions to stoke students' interest in robotics and get more of them to be involved. Students work together as a team to address challenging tasks by designing, creating and programming their own robots. This means that these students not only can put what they have learned to rigid test, but also get to celebrate their unique talents and achievements.
Graphical Programming (Software)
With the new DobotLab software platform, students can program, create games and animations by simply dragging and dropping coding blocks together, in order to control the robot's every move and learn how AI works while exploring technology and having fun.
Magician Lite es compacto y solo pesa 2,4 kg, lo que lo hace portátil y fácil de crear un escenario de aplicación. Su posicionamiento de repetibilidad es de 0,2 mm, carga útil de 0,25 kg y rango de radio de 340 mm. Es compatible con una pinza blanda, una ventosa, una pinza para bolígrafos y otras herramientas finales intercambiables. El robot tiene una función de detección de colisiones, lo que lo hace seguro para que los niños estén cerca.
| Magician Lite | |
| --- | --- |
| Voltaje | 100V-240V AC,50/60 Hz |
| Repetibilidad | +0.2mm |
| Programa | DobotStudio/DobotLab |
| Peso | 2.4KG |
| Grado de libertad | 4 |
| Entrada de alimentación | 12V ~ 5A DC |
| Energía | 60W Max |
| Conectividad | USB Virtual Serial Port / Serial Port |
| Carga máxima | 250g |
| Brazo Trasero / Antebrazo | 150mm |
| Ambiente de trabajo | -5°C~45°C |
| Alcance máximo | 340mm |
| Movimiento de eje | |
| Axis 1- Base | -135° to +135° |
| Eje 2- Brazo trasero | -5° to +80° |
| Eje 3- Antebrazo | -10° to +85° |
| Axis 4- End Tools | -145° to +145° |
| J1-J3 Max speed | 300°/s |
| J4 Max speed | 200°/s |